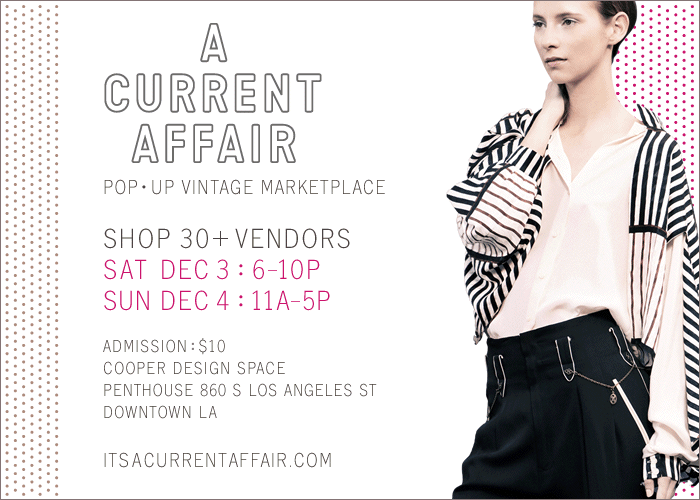 In spite of a career as journalist-curator-retailer based on endlessly ferreting the Next Big Thing, I've had an equally consuming passion for the past. What people wore and surrounded themselves in served as a intuitive mnemonic system for me to recall my school history lessons, thanks in large part to growing up with a mother who frequented dusty antique shops and garage sales and filled our family suburban home with stuff a century-plus years old.
As a budding clotheshorse, I used my allowance to buy my very first piece of vintage fashion, a pair of kitten-heeled black pumps with a severely pointed toe. I was 10. They reminded me of the pair that Debbie Harry wore along with a striped jersey dress when Blondie performed on TV. I had my mom quickly make me a dress like it, of course. Into high school, I wore vintage clothes, lingerie, jewelry, stilettos and even dead-stock silk stockings almost exclusively, and what I couldn't find, my mom continued to whip up in time for me to hit the clubs each night.
Three decades later, I continue to mix my vintage with modern, like so much of the world does now. I love that the very thing that the Heathers of the world used to mock me for in grade school is now the chic girl's badge of style. My friends who live in London, Paris, Barcelona and New York tell me that Los Angeles remains, bar none, the best place on earth for vintage.
With resources such as this weekend's vintage marketplace A Current Affair, who am I to argue?
More than 30 vendors of vintage fashion, jewelry and accessories will come together at downtown's Cooper Design Space for the
two‐day
pop‐up
, the brainchild of
Joey
Grana
of
Scout, one of the city's best retail resources for new and vintage fashion,
and
Richard
Wainwright
of NEW/FOUND, the innovative appointment-only vintage concept studio.
This weekend's installation is especially exciting for me because Joey and Richard have invited me to participate as host, as well as sign copies of my latest book, Fred
Hayman—The
Extraordinary
Difference:
The
Story
of
Rodeo
Drive,
Hollywood
Glamour
and
the
Showman
Who
Sold
It
All.
Part of my hostessing duties involve curating a selection vintage holiday frocks and frippery from the many vendors that will be showcased and available for purchase. What a fun opportunity!
The showcase, along with the booksigning and yours truly will be there for the opening festivities Saturday night, from 6 to 10 p.m. It's a great party, with music, bevvies and a turn out of some of the city's most fashionably turned-out vintage enthusiasts.
Stay tuned…I'll be giving away free tickets on my Twitter digs.
See you there!
A
Current
Affair:
Pop
-Up
Vintage
Marketplace takes place this Saturday, Dec. 4 from 6 to 10 p.m.; Sunday, Dec. 3 from 11 a.m. to 5 p.m. at the Cooper Design Space, 860 South Los Angeles Street  Los Angeles 90014-3311.
Posted in

Art, Books, Current Affairs, Design, Food and Drink, Music, Style