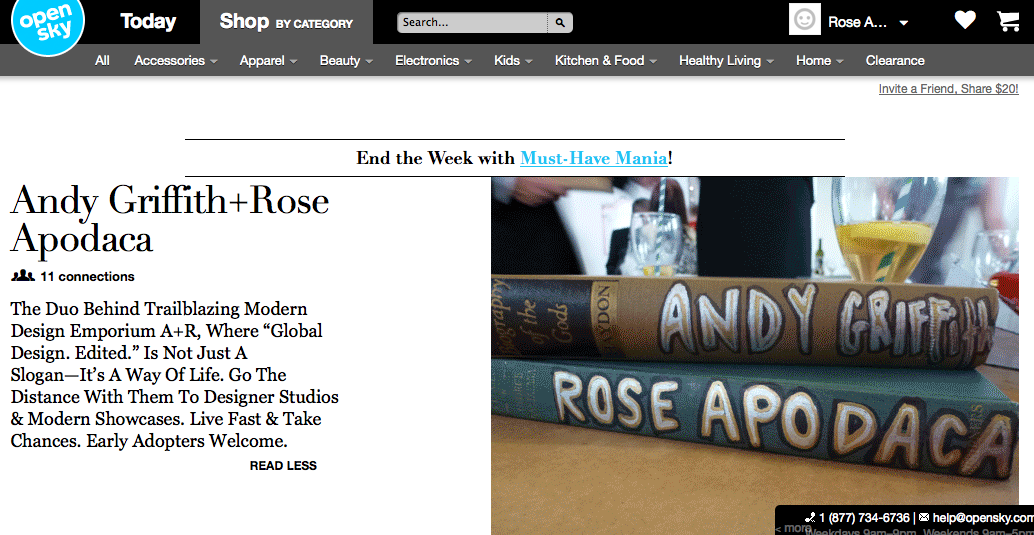 It's an expansion of sorts.
As you Dear LVER Reader know all too well from reading this site, Andy and I enjoy life to the max. With that in mind, we are expanding our offerings on the retail level by becoming one of the 150 "curators" on OpenSky, a curator-driven marketplace allowing users to select from a tightly selected group of experts in the fields of lifestyle, food, kids, beauty, health, home and other categories.
We'd like to think of ourselves as experience experts above all else. A personalized approach is at the core of OpenSky, so our shop on the site will be a fully extended A+R experience—emphasized by it being called the Andy Griffith+Rose Apodaca shop. A+R extended.
We'll offer a wider range of stuff we love, including products we wouldn't carry within A+R, such as stuff you can wear or eat. But the emphasis is the stuff to decorate your lives with design always in mind. There will also be exclusives and other notable offerings.
Go to opensky.com now and make a connection with us. We'll be launching the shop in the next weeks. Don't miss out!
Posted in

Design, Fashion, Food and Drink, Interior Design, Media, Style, Web/Tech