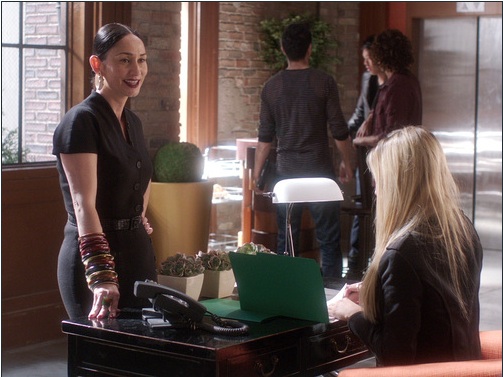 It's a Valentine made in Hollywood, this evening's installment of "Jane By Design" on the ABC Family network featuring yours truly in what will no doubt be a blink of a cameo on the new hit series. So tune-in or TIVO at 9/8c
If you haven't caught on to this teenage daydream of "The Devil Wears Prada," the fashion-obsessed, aspirational dramedy, which premiered in early January, has Andie MacDowell channeling the evil editrix role but as a world-famous designer, and relative newcomer Erica Dasher as the high schooler who is mistakingly hired on as her assistant.
I found Erica and everyone I worked with during my morning on set last September absolute sweethearts. She has that knack of instantly connecting with whomever she is with, asking questions and being just effusively open enough to be charming. We sat on a nearby desk and chatted between takes, and I couldn't help but see long career ahead of this gal.
The show could have at least another season given the ratings. The mischief that ensues weekly is met by an onslaught of cameos from the fashion world. So far, there have been walk-ons by Stefano Tonchi of W, Patricia Field, Nanette Lepore and, last week, Cameron Silver and Christos Garkinos of Decades and Decades Too. The vintage gurus personally delivered a frock to Andie's character because, as Christos joked to me last week at the shop, that's what they do with all the time they have.
The Wall Street Journal described the series plot as straight from the Disney Channel by way of Teen Vogue. To wit, Teen Vogue editor Amy Astley appeared earlier this season. Next week's installment will feature a cameo with the wildly wonderful Betsy Johnson. So tune in then…and tune in tonight!
Posted in

Current Affairs, Media, Style