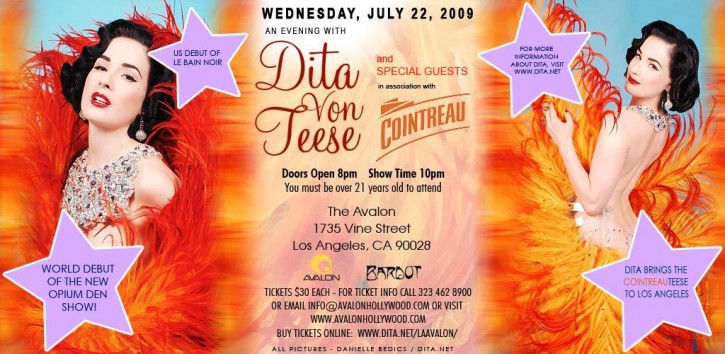 After a two-year long hiatus, Dita Von Teese will finally be shedding her feathers and crystals this Wednesday night at The Avalon in Hollywood. About time. The night will feature extraordinary new costumes by Michael Schmidt, along with the U.S. debut of DVT's sold-out "Le Bain Noir" show from Le Crazy Horse in Paris. (Her engagements there in the last year marked the first time an outsider from Le Crazy Horse troupe performed at the celebrated nightclub, and they were crammed nightly with fans from the fashion and entertainment worlds. No surprise the Parisians adore her!)
Another special highlight at Wednesday's show is the line-up, a veritable reunion of the burlesque sensation's long-time pals: Ava Garter, L'Effleur Des Sens, Mayte, Murray Hill, Raja and Selene Luna. (We adore Selene!)
Tickets really are a steal at $30, given they go for much more than that at her Paris gigs and elsewhere.
See you there!
Posted in
Style