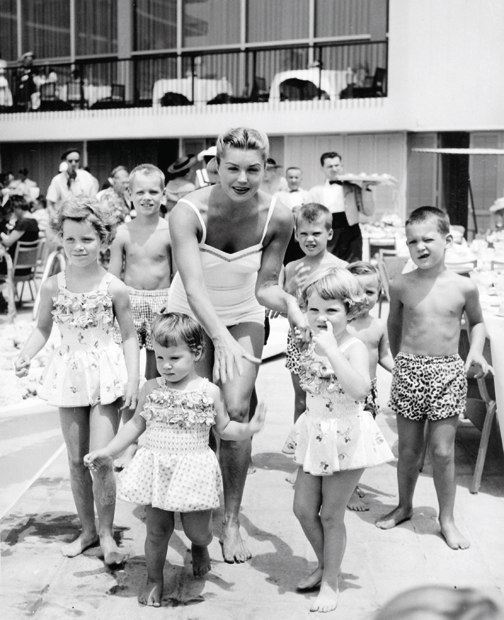 With the news Thursday that swimming screen star Esther Williams' 91 years on this planet has faded to black, I remembered my brief conversation with her during an intermission at the Dorothy Chandler Pavilion less than a decade ago. Seated in a wheelchair, clad in a turban and silk ballet slippers, she was as elegant then as I imagined she'd be from her vintage films. We were introduced by my host that evening, opera-loving Fred Hayman. By the time I wanted to interview her for my book on Mr. Hayman, her health was not up to it. No matter, she was a key part of the earliest years at the Beverly Hilton, where Mr. Hayman made his first mark in Los Angeles. So much so, I started Chapter 9 of his biography with this anecdote about Ms. Williams:
The Aqua Star at the Beverly Hilton, even today, is the largest swimming pool anywhere in Beverly Hills. And this is in a town where having a swimming pool, one sizeable enough to entertain comfortably in and around, is as standard to any house beautiful as staff quarters and a three-car garage.
So it would take quite a few cases of ivory gardenias to fill the hotel's cerulean pond, a 50-by-90-foot expanse shaded by palm trees, for its inauguration splash before invited guests and the press that sunny August day in 1955. This was one more photo op that busy opening season for the Hilton, and it had to wow the many, many well-wishers seated poolside, shaded by their platter-sized hats and angular sunglasses. Parting the perfumed waters with a poised dive for the cameras was the million-dollar mermaid herself, Esther Williams.
A glamorous swim siren like Williams was good business for any hotel, and the Beverly Hilton ensured the MGM headliner felt right at ease here. After that celebratory dive, the movie star glided through the gardenias with a trio of her visually impaired students from the Esther Williams Swim School, an alliance she'd forged with the Nursery School for Visually Handicapped Children (now known by the updated Blind Children's Center). Williams first helped the school on the invitation of Hedda Hopper at a 1947 auction at Harold Lloyd's home, where she raised thousands for the school by stripping off her street clothes to reveal a Cole of California maillot. Seven years later, the hotel pool benefit would again feature a Cole fashion presentation, this time with Olympic diving champion Vickie Draves modeling and a spa menu of melon Lucullus and Tomatoes Farcies Escoffier organized by Fred Hayman. The Aqua Star would also be christened the official pool of Williams' cause…
R.I.P. Ms. Williams. You were and will always be in a class of your own.

Posted in

Film, Vintage