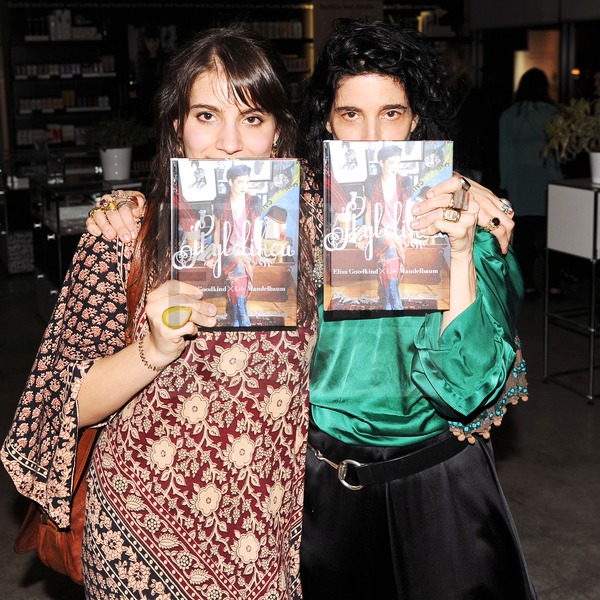 This week I received a visit from Style Like U's Elisa Goodkind and her shutterbug associate, executive editor Ramona Canino for an upcoming showcase on yours truly. It will appear on the site that Elisa co-founded with her daughter Lily Mandelbaum, seen above during a recent celebration in New York for their inaugural book by the same name.
While subjecting myself before the camera is not exactly my idea of fun—I'd much rather control things behind the lens and in the interviewer seat!—Elisa and Ramona were an absolute pleasure. Like me, Elisa (who is a former editorial stylist and appeared at my house draped in a black charmeuse Rick Owens pansuit and shrunken jacket, fingers ringed in silver and gold and a kerchief around her neck) had been increasingly fed up with the way traditional media is heading. Her adult kids, including Lily, countered with a reality check: out with the old and in with the endless DIY opportunities of the internet. And Style Like U was hatched.
I've long checked into the site, fascinated by the colorful individuals they spotlight and the relaxed approach taken with subjects (videos run about seven minutes). More recently, SLU has begun other types of features, such as the beautifully sublime editorial short on vintage bohemians Beatrix Ost and Ludwig Kuttner.
Our conversation this week ended up very biographical and of-the-moment. Even my fashion choices were far from pre-meditated, though I let instinct (and the unsolicited occurrence of a stocking run) determine my selection. I'm not even sure I shared everything I would have had I the luxury to self-edit. That's, of course, me the editor speaking…ha ha!
Keep you posted when my vid airs.
Posted in

Art, Books, Current Affairs, Design, Style, Web/Tech