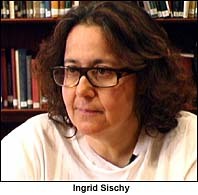 Can Interview Magazine be the same without Ingrid Sischy? The rumors are now a reality at the breaking news tonight, Wednesday, confirming the mag's mother hen for the last 18 years is leaving with its sale.
Co-owner, publisher and ceo Sandra Brant has sold her 50 percent interest to her co-owner, ex-husband Peter Brant. The company also publishes Art in America and The Magazine Antiques.
Sischy was enlisted following founder Andy Warhol's death in 1987, and she's since perfected his formula of celeb-driven interviews, pop cult observations and fashion spreads, all the while confirming its international status with its healthiest subscription and advertising figures to date. A BFF to Elton John and Karl Lagerfeld, Sischy is also a contributing editor at Vanity Fair, the fashion and photography critic for The New Yorker and a contributor to The New York Times Magazine. Having started her career at ArtForum in 1979, she was the artistic director of the first Florence Fashion Biennale in 1996.
Per a release Sischy released late Wednesday: "Managing such an important part of Andy Warhol's legacy has been a huge responsibility and I am proud of what Sandy and my editorial team have accomplished in terms of content and growth. I wish everyone the best of luck and hope this great American magazine will continue to flourish."
While buzz about a pending a sale made this move an inevitable possibility, it still won't be easy to find someone who can slip into Ms. Ingrid's socks and sandals so easily. The so-called Crystal Ball of Pop has lost its brilliant diva.
Posted in
Style