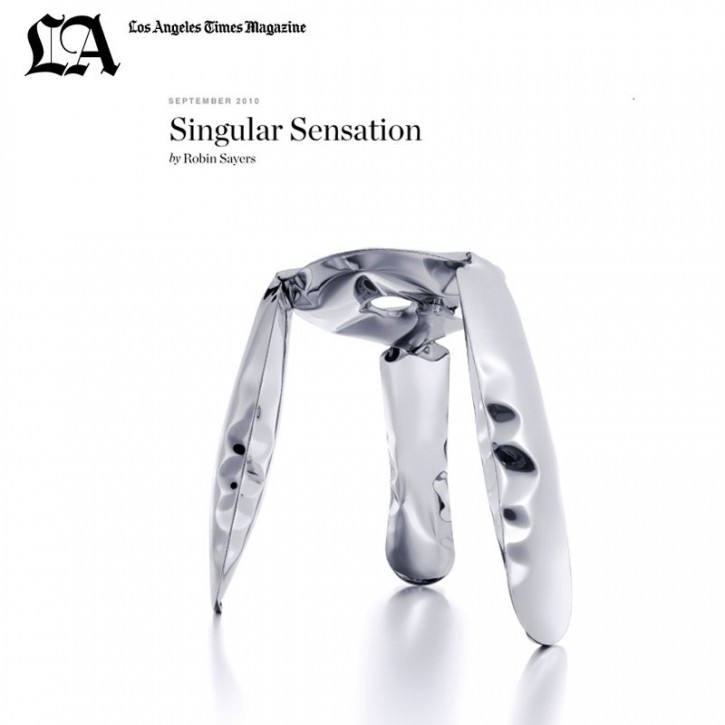 Getting it first is not just lip service for us. Obsession? Maybe, as Andy and I jump on the design we love as soon as we can. So we're certainly, er, pumped by the generous shout out in this week's LA Times Magazine for the Plopp stools we introduced stateside (ok, along with Moss in New York).
As editor-at-large Robin Sayres reported:
It wasn't made to be comfortable," admits Wroclaw-based engineer Oskar Zieta of his ingenious and award-winning Plopp stool.
"But it's more comfortable than it looks." The
must-be-seen-to-be-believed process (trust us—Google it) involves two
incredibly thin (three-hundredths of an inch) sheets of laser-cut,
welded steel that are inflated, balloon-like, with high-pressure "Polish
air," as he affectionately calls it. The result is a unique lightweight
seating marvel—indentations occur spontaneously, so no two are alike.
Astoundingly, it can hold two tons within seconds of expansion. "It
could've been in Pumping Iron, because it has Muscle Beach style," Zieta
says of his inspired creation. "It's durable—Schwarzenegger should give
it a try!" Available in yellow, gray, black and white ($525 each) or
with a stainless finish (shown, $725). A+R, 1121-1 Abbot Kinney Blvd.,
Venice, 310-392-9128, aplusrstore.com.
Posted in
Uncategorized