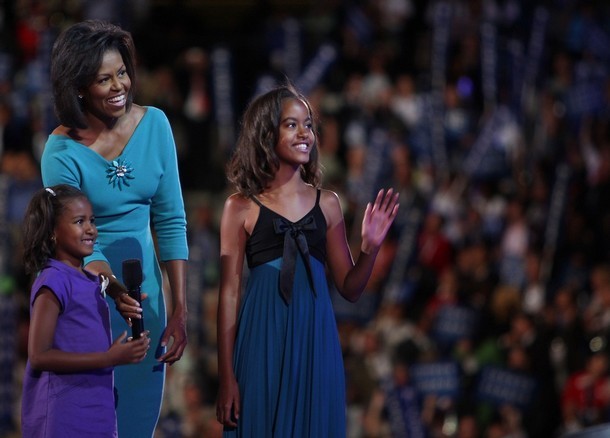 Much is made about Michelle Obama channeling Jackie Onassis. Why? Because she occasionally flips her 'do and has a penchant for pencil skirted dresses? While the First Lady hopeful has had to curb part of her feistier side as the march to the White House draws closer, her anticipated appearance on the first evening of the Democratic National Convention showed she is not some 1950's charm school throwback.
(Never mind the 1980s revival that is Cindy McCain.)
On stage at Denver's Pepsi Center Monday night stood a woman who was more than just well poised and fabulously dressed. She addressed the packed house with focus, strength, passion and she did it intelligibly and earnestly. Yes, she might have focused on praising her husband rather spending the minutes rattling autobiographical points–but then that's just a revealing as anything else. Hers is a voice that is not just more compelling to listen to than some of the politicians at the podium earlier in the evening, but a voice to all those of us who are living in the real world.
This is one modern woman whose style is as much about substance.
Ok, so the turquoise dress by Chicago designer Maria Pinto, coupled with the major star brooch, gets high marks. (Pinto was also responsible for the purple dress Obama wore the night her husband launched her campaign.)
But in that moment when her two daughters, Sasha and older sis Malia, shared the stage, I, for one, saw the kind of America I want to live in.
It's simply the difference between class and crass.
Posted in
Style