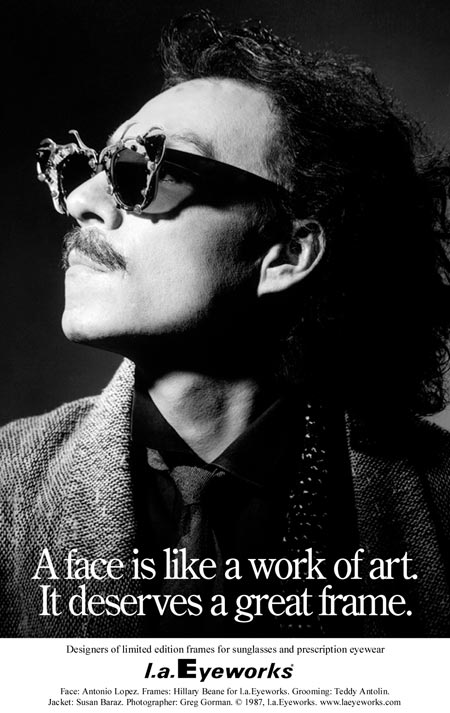 Legendary fashion illustrator Antonio Lopez in the iconic long-running campaign
Today's is World AIDS Day. Of course, every day in the world, HIV, AIDS and human rights are a top concern for the millions affected by the disease, whether they are infected or know someone who is. While support, care, prevention and treatment have progressed vastly since the first cases were pinpointed nearly three decades ago, so much more needs to happen before this plague stops killing.
As part of the Light for Rights campaign, individuals and businesses around the world will be dimming the lights this evening in a show of solidarity.
Those custodians of heart and soul—artists—commemormate this day as the DAY WITH(OUT) ART, a project that began on Dec. 1, 1989, with the aim of strengthening the global response to the challenges of the AIDS pandemic. More than 6,000 arts communities worldwide demonstrate the power of art to raise awareness of AIDS through installations, events and other means.
Here in Los Angeles, one of the most creative groups is made up of the folks at L.A. Eyeworks. They have compiled a playlist of songs from arty pals to commemorate the day. We at A+R our big fans of founders Gai Gherardi and Barbara McReynolds and their entire fabulous time, in large part because they are such fervent supporters of artists and they put their money where their hearts and souls are. So we're beyond thrilled to have been included among the contributors. They will be handing out the playlist today in their shops. I've included my selections and those of a few others below.
I also chose the image of Antonio Lopez, the great fashion illustrator and culture vulture, to illustrate this posting, among the hundreds of amazing figures who have appeared in the company's iconic ad campaign, all photographed by Greg Gorman. Antonio succombed to Kaposi's Sarcoma as a complication of AIDS at the UCLA Medica Center in 1987. He lived in New York at the time, but was here in L.A. for a show of his work.
As the old disco ditty goes, "last night a deejay saved my life…" Let this music project be a reminder of how we can all save lives by doing something about it. Even a buck to the organization of your choice helps.
DAY WITH(OUT) ART Uncensored Vision Playlist 2010
Neil Denari, Architect: Heart of Darkness • Pere Ubu
"Pure anxiety about possibly everything."
Catherine Opie Artist: Every Breath You Take • The Police
"In 1983 I was living in San Francisco and photographed the first Candle Light Vigil. It was a somber affair which transformed our community forever. The number one song in 1983 which you would hear in clubs and on the radio was the Police, "Every Breath You Take" which seems appropriate. Here is an image that was used on the flyer for that vigil:"
Liz Young, Artist: As Usual • Brenda Lee
"After my dear friend Jim Reva died, I experienced life in much the same way: the sun came up each day, I moved thru the city as I had before, things seemed the same but something had changed forever. Many people who saw me knew nothing of my loss and others had experienced it too. I carried Jimmy with me, I still do, his name is tattooed on my arm. This song reflects my feelings of loss, the difficulty of acceptance and the ability to carry on with life in those painful moments. I love the songs of Brenda Lee, sweet, sentimental and sometimes sassy….much like Jimmy although he resisted being sentimental which only made me turn it up. I loved Jimmy so. We talked everyday, about life, about art, about nothing. It sometimes seems so unfair that He is gone and that I have lived all this time without him, his love and guidance and his beautiful spirit…but then have I?"
Greg Gorman, Photographer: Rattlesnake Charm (Dream machine) • Sean Hayes
Susan Silton, Artist: When Doves Cry • Patti Smith
Gai Gherardi Co-Designer, l.a.Eyeworks: Anthem • Perla Batalla and Julie Christensen (song by Leonard Cohen)
Allee Willis Grammy, Emmy, Tony and Webbie winning and nominated songwriter, artist, multimediaist, director, collector, party thrower and curator/social director of The Allee Willis Museum of Kitsch at AWMoK.com: September • Earth, Wind & Fire
"I wrote it and it's an eternally uplifting song."
Rose Apodaca Co-founder of design retailer A+R and pop culture writer:
The World's A Mess; It's In My Kiss • X
"Ok, not the most optimistic of lyrics. But the charging drive of the music is enough to
shake us out of our complacency and clean up the mess."
Rollerskate • Blanca Apodaca
"This song makes me and any one who hears it move! Addictive melody and beat. It
makes me happy and not simply because it is written, performed and recorded by my talented
sister."
Let's Stick Together • Bryan Ferry
"The title says it all."
Posted in
Uncategorized