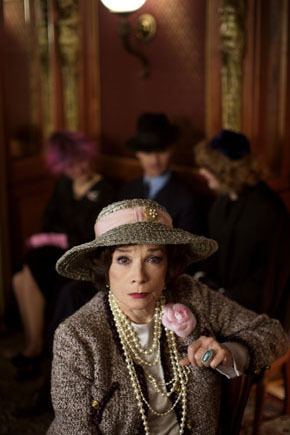 Hollywood icon Shirley MacLaine is playing style icon Gabrielle "Coco" Chanel in a two-part original miniseries for the Lifetime Network this November.
The actress is currently in Rome at the famed Cinecittà Studios, where Fellini and Scorcese have filmed and which has been transformed into Rue Cambon, according to today's WWD.
The televised saga promises it all—her rise, fall, rise again and all of it highlighted by her many love affairs (this IS Lifetime, and that was Mademoiselle's life). What it doesn't have, however, is the official sanction from the venerable fashion house. No matter. Writer Jessica Iredale, who spent time on the set interviewing MacLaine, also notes that despite the painstaking detail to costumes and set, director Christian Duguay wasn't looking to do a fashion film. "I think they're boring," Duguay told WWD.
MacLaine is the elder Chanel, post-WWII and her 15-year exile from Paris; Slovakian actress and relative newcomer Barbora Bobulova is the young Coco.
For a really thrilling ride into the innovator's life and loves, read
Chanel: A Woman of her Own by Axel Madsen and Chanel and Her World by Edmonde Charles-Roux.
(Photo by Dave Yoder/WWD)
Posted in
Style