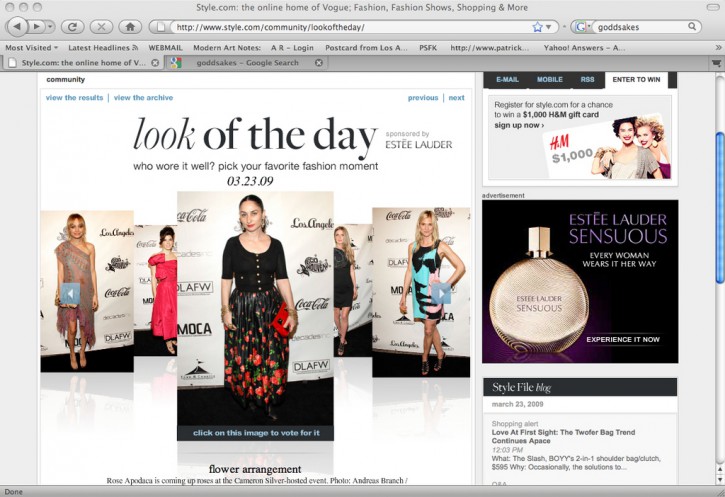 When I spotted the bud-speckled vintage Yves Saint Laurent skirt at Decades last fall, I instantly had to have it. I couldn't get it out of my mind after leaving the shop.
So I phoned Cameron: "Put that rose bush of a skirt on hold for me!"
Six months later and a week before his beautifully executed presentation at MOCA (see previous posting below on the event), Cameron called me: "I still have the skirt on hold for you in the back. Do you still want it? You could wear it to the fundraiser?"
I did. I paired it with satin Viktor & Rolf heels; Giles Deacon's red patent clutch with the massive gold studs (can't be too frou); and the little Couture Couture cashmere sweater and big gold chain bracelets that Juicy Couture founder Pam Skaist-Levy gifted me for my 40th bash last summer. The final touch was an oversized gold rose ring (we sell them at the shop–an item I convinced Andy to stock because, well, I had to have one in gold and silver!)
Today Cameron texted me with the news that the skirt and yours truly made it on Style.com's Look of the Day. Never mind that I was trailing the other four picks who were well ahead of me in votes.
It's a lovely memento for the scrapbook, er, blog, from a great evening.
Posted in
Style