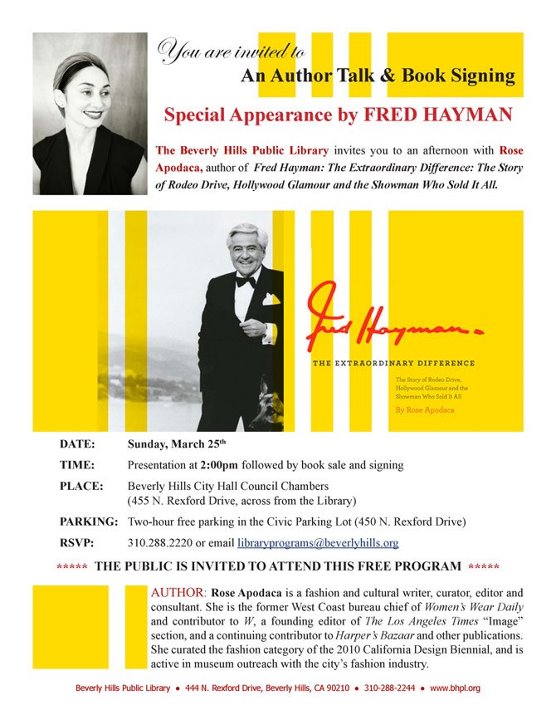 How did Esther Williams and Jayne Mansfield spend their afternoons? Where did Steve McQueen and Peggy Lipton spend their nights? Why did the Golden Globes end up at the Beverly Hilton? Who introduced Halston and Diane Von Furstenberg outside New York?
These little known histories of 90210 are part of my new talk and slide show this Sunday inside the beautiful 1931 council chambers at Beverly Hills City Hall. As I did with my latest book, Fred Hayman – The Extraordinary Difference: The Story of Rodeo Drive, Hollywood Glamour and The Showman Who Sold It All, I will be retelling the evolution of Los Angeles and Beverly Hills as it took shape through the pioneering maverick efforts of Mr. Hayman.
The event is free and starts at 2 p.m…and will be the last of my events for this book and its seven pounds of L.A. history for a while…
Author Talk+Signing, Sunday, March 25 at Beverly Hills City Hall Council Chambers, 455 N. Rexford Drive, across from the libray. Two-hour free parking in Civic Parking Lot at 450 N. Rexford Drive). Presentation begins at 2 p.m.
Posted in

Books, Design, Film, Food and Drink, Style