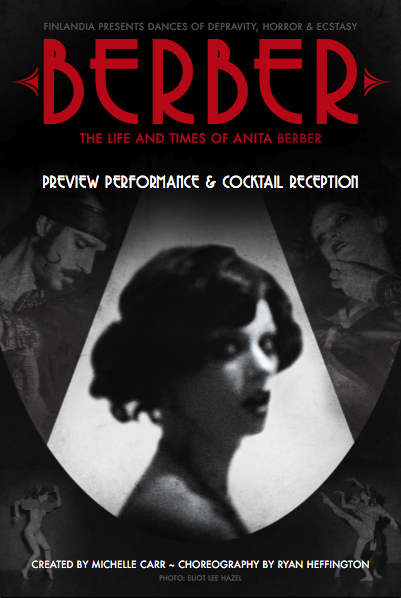 Countdown is on with only 11 more days to breathe life and limb into the resurrection of Anita Berber, enfant terrible of Weimar Berlin and patron mother of modern day performance art and avant-garde dance.
A motley crew of L.A. underground legends is investing blood, sweat and tears into a multi-media project celebrating the uber-notorious Berber, whose scandalously glam 29 years as a cabaret dancer, author, artist muse and prostitute (as if the preceding description didn't already make her the latter) continues to haunt and inspire and even shock eight decades after her fatal collapse in Damascus.
Behind this dream is Michelle Carr, the irrefutable matriarch of the neoburlesque movement when she founded the Velvet Hammer a lifetime ago. After years getting down and dirty in Berlin, Michelle's back in town with a new fixation–and one that will undoubtedly fuel another mania, just as her relentless efforts to revive burlesque did.
To realize this first step, Michelle & Co. have turned to fundraiser Kickstarter to raise $10,000 by September 20. She and the troupe have a ways to go. But it's not impossible.
Give $10. Give $1,000. Just give.
We did. And I'm lending my hosting duties along with pal Bryan Rabin for a benefit for the project on September 29. More on that later. But you can score tickets to soiree with your donation.
Don't delay! Please pledge here. In gratitude, the spirit of Anita Berber dances a dance of depravity and ecstasy.
Posted in
Uncategorized