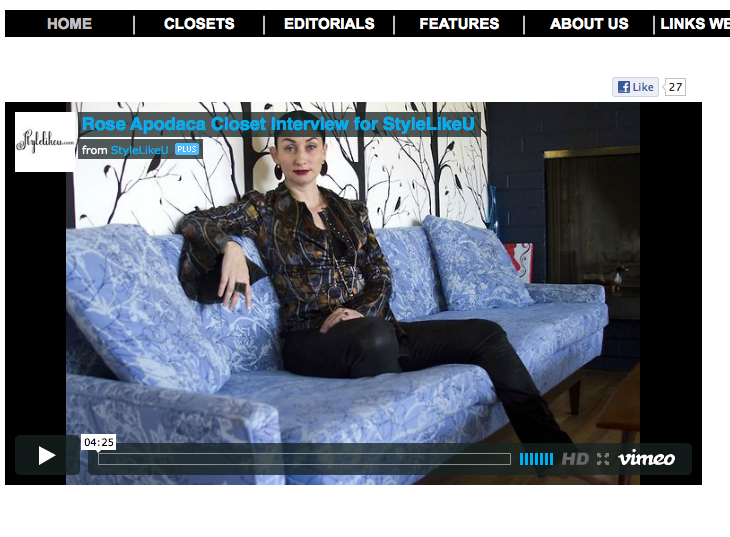 When Elisa Goodkind and Ramona Canino appeared on my porch late last summer, I had a little trepidation. I'm not about hanging out my laundry for the world to see, let alone opening up my closet or my home—especially as I was in the midst of construction and changing up some of the furnishings. But these gals, in L.A. from New York to conduct several interviews on camera for their ballyhooed style site, StyleLikeU, won me over.
StyleLikeU was founded by Elisa and her then 21-year-old daughter Lily Mandelbaum in 2008, as an online magazine featuring pictorial and video interviews with clotheshorses of every age and ilk. Like me, Elisa once worked in the wonderful world of print editorial; her career also lead her into the wacky world of celebrity styling. And, like me, she was good and done with those worlds as they spiraled out of control in the mid-naughts. Excited by the potential of the web, as she witnessed through her daughter's eyes and experiences, the mother-daughter duo launched the site. An eponymous book on some of their featured taste makers was released in Spring 2011.
I was certainly a fan of the site. Despite the increasingly shining spotlight, it remains very much a passionate experience, neither slick nor commercialized. The sense of discovery also keeps me returning, whether the surprises are the individuals profiled, what comes out of their mouths in the interviews or out of their dense wardrobes to showcase in the videos. Those videos, by the way, run about four minutes long and are condensed from two- to three-hour interviews. What a lot of work in the editing bay!
But it's clear from the couple of hours I spent with Elisa and SLU's executive editor/camerawoman Ramona, that this is so much more than work. It's as much a second-nature creative pursuit as getting dressed is for the individuals they profile. Early in my career, a very wise, much more experienced fellow journalist told me that while we are taught in J-School never to befriend our subjects, life is too short not to be open to the friendships that can result from professional interactions. While my afternoon with Elisa and Ramona was not exactly in the classic journalistic context, it was an opportunity for a new bond with a couple of really fantastic women. I hope to make acquaintance with Lily and the rest of the SLU crew in the future.
I thank them all for a profile that doesn't make me cringe!
Posted in

Beauty, Books, Costume, Craft, Design, Fashion, Interior Design, Style