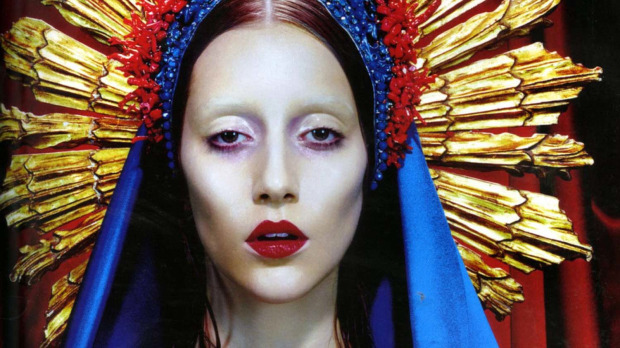 Regrets, I've had a few…Truth be told, they are very few since I find it counterproductive living life that way. But one regret I cannot shake is recently lingering in Nashville and skipping out on the opening festivities in San Francisco for the Jean Paul Gaultier retrospective at the de Young Museum.
There was the lost opportunity of finally meeting the genius through our mutual friend Dita Von Teese, never mind missing out on her surprise performance for 150 guests at a private home the night before the gala on her crystal-covered bucking saddle—a particular act I have not seen live yet. Sadder was missing Suzy Menkes' interview with JPG the morning after the gala (I still fondly remember squiring her around L.A. to a handful of fashion shows and designer studios a few years back, the Lilliputian grand dame scaling the ledge of my SUV with aplomb!).
I will certainly make it to the show before it closes August 19. But to put the kabosh on my moaning, Andy sweetly ordered me a copy of the exhibition catalog, The Fashion World of Jean Paul Gaultier: From the Sidewalk to the Catwalk. The 9.8-pound tome is packed with 500 gorgeous images dating back to JPG's first show in 1976. It arrived this week. The book is beyond what Dita and other friends promised.
Still, glutton for experience as I am, I wished I'd been there!
Posted in

Books, Costume, Design, Fashion, Style, Travel