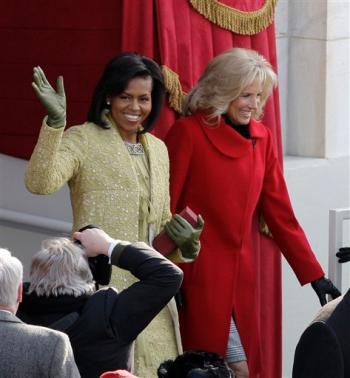 Oh happy day. Not only did I get to catch every moment of the Inauguration this morning because our flight to the UK was cancelled last night. I also woke up to find our new First Lady, Michelle Obama, dressed in a sunny yellow, wool lace shift with a crystal neckline and matching coat by Isabel Toledo.
The New York-based Isabel is one of the greatest fashion talents—and one of the least widely known, mostly because she's designed and danced to her own beat these 25 years since establishing her own brand. But great turns come to those who hold on to their ideals, and today the house of Toledo—including the team of 13 men and women who stitched up the original design over the Christmas holiday—are rejoicing.
Isabel went for an optimistic hue in her choice, and she succeeded when you considered the First Lady among the sea of black wool coats, red hats and blue scarves. (Andy couldn't get enough of the dude in the all-red trilby.) She popped.
Coincidentally or not, it's the color du jour: Pantone 14-0848, also known as Mimosa and the shade Pantone proclaimed last month as the color of 2009. Mimosa, according to the Pantone site, "embodies hopefulness and reassurance in a climate of change. Mimosa also speaks to enlightenment," the site goes on to say, "as it is a hue that sparks imagination and innovation."
This not only describes our First Couple, but the Toledos. Andy and I love Ruben and Isabel, not just because of their refreshing, inspiring talent—but because they're a duo you never tire of over dinner. They're a great story of love, integrity and flair.
The dress and designer were chosen with the guidance of Ikram Goldman, the owner of the Chicago boutique Mrs. Obama favors. Ikram has been Mrs. Obama's choice for the designers she's tapped again and again—hyphenated American designers (most born or with roots elsewhere) with strong, personal style, including Maria Cornejo, Maria Pinto and Narciso Rodriguez (who she wore both election night and at Sunday's first inauguration fest).
This spotlight couldn't have happened to a more beautiful person.
Bravo Isabel!
This just in from the Toledos: "We are STILL LEVITATING!!!! WOW!!"
[Photo: AP]
Posted in
Style