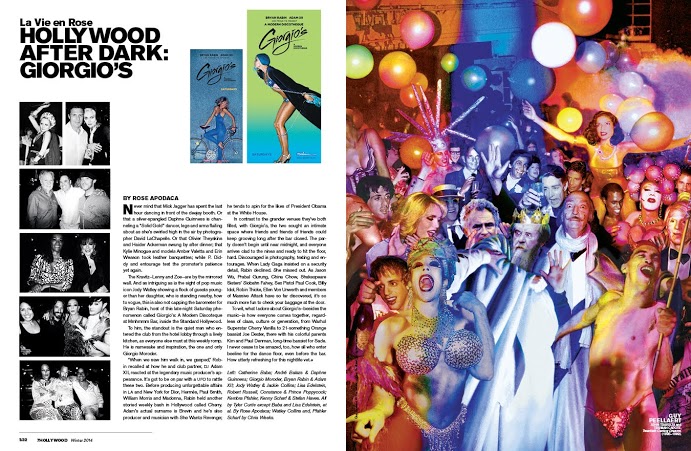 Given the day, I thought I'd share my "La Vie En Rose" column on Giorgio's, the Saturday night fever at Mmhmm Bar at The Standard Hotel on Sunset. The weekly bash has taken hold of Hollywood—both the city and its shakers and squatters—in a way that's spilled over into other parts of the culture (just look at the disco-flavored fashions on the recent runways). Since this article appeared in the most recent issue of 7Hollywood, the bold-faced guest list has swelled to include the trophy-bound such as Lupita Nyong'o and many of her "12 Years A Slave" cast members the night before the Golden Globes. No wonder Vanity Fair, The Hollywood Reporter and other industry pubs have been racing to include it in their awards season coverage. Bravo hosts Bryan Rabin and Adam 12!
La Vie En Rose: Hollywood After Dark: Giorgio's
Never mind that Mick Jagger has spent the last hour dancing in front of the deejay booth. Or that a silver-spangled Daphne Guinness is channeling a "Solid Gold" dancer, legs and arms flailing about as she's swirled high in the air by photographer David LaChapelle. Or that Olivier Theyskins and Haider Ackerman swung by after dinner; that Kylie Minogue and models Amber Valetta and Erin Wesson took leather banquettes; whily P. Diddy and entourage test the promoter's patience once again.
The the Kravitz—Lenny and Zoe—are by the mirrored wall. And as intriguing as is the sight of pop music icon Jody Watley showing a flock of guests younger than her daughter, who is standing nearby, how to vogue, this is also not capping the barometer for Bryan Rabin, host of this late-night Saturday phenomenon called Giorgio's: A Modern Discoteque at Mmhmm Bar, inside the Standard Hollywood.
To him, the standout is the quiet man who entered the club from the hotel lobby through a lively kitchen, as everyone else must at this weekly romp. He is namesake and inspiration, the one and only Giorgio Moroder.
"When we saw him walk in, we gasped," Rabin recalled at how he and club partner, DJ Adam 12, reacted at the legendary music producer's appearance. It's got to be on par with a UFO to rattle these two. Before producing unforgettable affairs in L.A. and New York for Dior, Hermès, Paul Smith, William Morris and Madonna, Rabin held another storied weekly bash, Cherry. Adam's actual surname is Bravin, and he is also producer and musician with She Wants Revenge. He tends to spin for the likes of President Obama at the White House.
In contrast to the grander venues they've both filled, with Giorgio's, the two sought an intimate space where friends and friends of friends could keep grooving long after the bar closed. The party doesn't begin until near midnight, and everyone arrives clad to the nines and ready to hit the floor, hard. Discouraged is photography, texting and entourages. When Lady Gaga insisted on a security detail, Rabin declined. She missed out. As Jason Wu, Prabal Gurung, China Chow, Shakespeare Sisters' Siobahn Fahey, Sex Pistol Paul Cook, Billy Idol, Robin Thicke, Ellen Von Unwerth and members of Massive Attack have so far discovered, it's so much more fun to check your baggage at the door.
To wit, what I adore about Giorgio's—besides the music—is how everyone comes together, regardless of class, culture or generation, from Warhol Superstar Cherry Vanilla to 21-something Orange bassist Joe Dexter, there with his colorful parents Kim and Paul Denman, long-time bassist for Sade. I never cease to be amazed, too, how all who enter beeline for the dance floor, even before the bar. How utterly refreshing for this nightlife vet.
From Left: Catherine Baba; André Balazs & Daphne Guinness; Giorgio Moroder, Bryan Rabin & Adam Bravin a.k.a. DJ Adam12; Jody Watley & Jackie Collins; Lisa Edelstein, Robert Russell, Constance & Prince Poppycock; Kembra Pfahler, Kenny Scharf & Stefan Haves. All photos by Tyler Curtis except Baba and Edelstein, etal. by Rose Apodaca; Watley/Collins and Pfahler/Scharf by Chris Weeks.

Posted in

Current Affairs, Event, Fashion, Music, Nightlife, Style