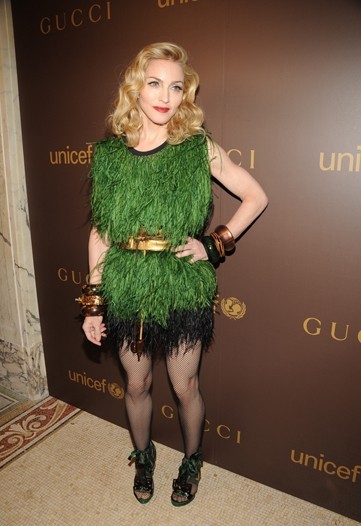 On the eve of her quickie divorce announcement in a London High Court Friday (ok, it was actually Wednesday night), Madonna was ruffling feathers of another kind in New York at a celebration for Gucci's new Tattoo Heart handbag. It's the latest in a collection of limited edition bags Gucci has released since 2005 that have so far raised $6 million for UNICEF.
The good deeds involved with this initiative notwithstanding, the bags–covered in vintage tattoo artwork including hearts–do little to raise a pulse. That imagery is so played out by now, not to mention spoiled thanks to the pillaging of Ed Hardy's archives by the brand that bears his name. And besides, John Galliano did that whole rockabilly-inspired thing years ago already, right?
But that emerald and black Louis Vuitton feather frock Madonna arrived to the VIP fete at the Oak Room in? Crazy good.
Posted in
Style