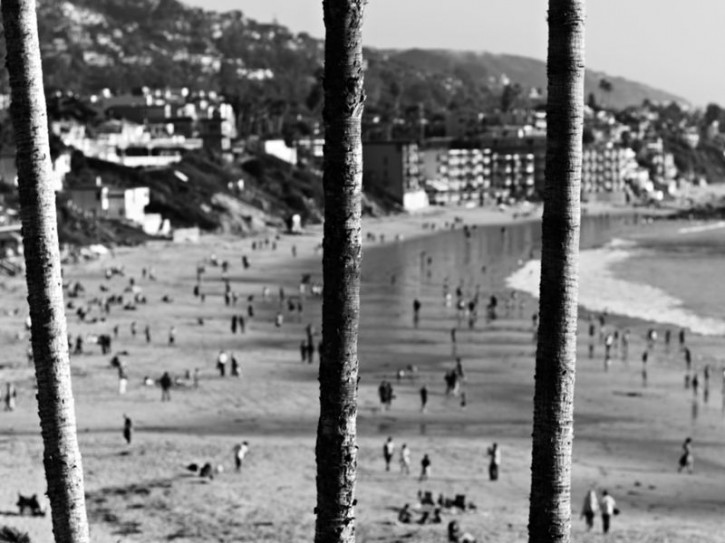 If you haven't yet, get yourself over to the MOCA Pacific Design Center in West Hollywood to catch the final hours of Hedi Slimane's ode to the Golden State and first solo museum show, California Song.
I nearly missed this not-to-be-missed part of the Pacific Standard Time exhibitions (so much to see, so little time), but got in there Saturday afternoon with Nina and Joseph Brooks.
Hedi's stark black and white photographs celebrate the beauty, both fertile and decaying, of this edge of America with a raw, romantic and frequently fetishistic eye. So many of his images are beautiful on their own. But collectively, as they are presented, pairs juxtaposed at a time on an enormous light cube on the second floor, they are haunting, even in all their stylish tropes.
The cube and the first-floor installation of stills make this not your usual pictures show. Not that anyone would assume this from a guy as influential to sartorial aesthetics as Hedi in the last dozen or so years. Stills are presented in boxes of plywood, interspersed with mirrors to assert the viewer as part of the photographed community presented, individuals such as John Baldessari, Brian Wilson and Frances Bean along with ephemera of a cross or an altered view of Hollywood.
There are people and places as familiar to many of us Angelenoes as the back of our hand. But visiting these sights through the perspective of an outsider so obviously in love with this place, warts and all, makes "California Song" worth an experience.
Photo: Courtesy of HediSlimane.com
Posted in

Art, Current Affairs, Style