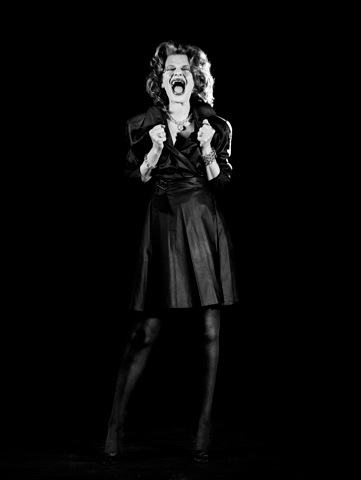 Looking forward to the droll and delicious send-up of stand-up satirist Sandra Bernhard, who opens a two-week run Wednesday night at REDCAT with brand spanking new material and musical numbers in her ongoing Sandrology.
This is, indeed, the title of the "pop culture anthropology" shows Sandra did for Bravo TV. But on stage at downtown L.A.'s avant-garde home, our favorite funny redhead (OK, our favorite breathing ginger gal as opposed to the late great grand dame Ms. Ball) is no holds barred as she carries out her signature style of vivisection on the pop culture beast. And all this backed by a raucous rock band. Cannot wait!
Get thy tickets now.
Sandra Bernhard: Sandrology runs Wednesday, May 30 thru Sunday, June 10 at REDCAT, 631 West 2nd Street in downtown Los Angeles. Buy tickets online or call 213 237-2800.
 Photographs by William Baker Courtesy of REDCAT
Posted in

Art, Current Affairs, Media, Music, Performance, Style