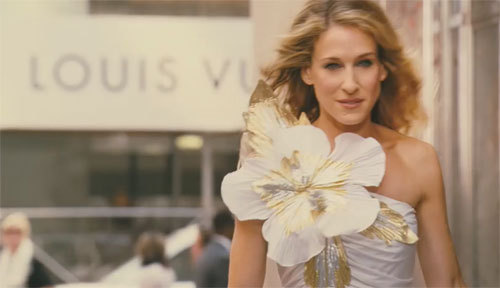 Is it any surprise that every fashion player worth its marketing budget was salivating for a moment on the big screen with Carrie Bradshaw and her gal pals?
The fashion phenom that is "Sex and the City," from its six-year run through 2004 to the frantically hyped movie hitting theaters next month, is spelled out this week in Hollywood trade Variety, specifically how designers, jewelry houses and even a certain iconic Vogue editor, volunteered themselves and their product for the chance of a moment in the film. Plus an onscreen credit, of course. And why not? The show made Blahnik and baguette (as in Fendi) a part of the mass lexicon in a way that no provocative ad campaign or diamond-dripping red carpet turn ever has. So fans can expect this film to be just one big-screen commercial for all those labels tripping over themselves to be a part of it.
Variety reporter Diane Clehan, who despite having bylines on other clothes-related stories, comes off as less of an expert on fashion than a news writer who really pines to be a "fashionista" (a term she drops in the story which I pray will some day just go the way of the wool bathing suit and polyester elastic pants). After all, her lead promises that "Manhattan's style setters are getting ready for their close-ups" with the premiere of the film. But then she goes on to cite design houses such as Manolo Blahnik, Vivienne Westwood and H. Stern, who, although do have flagships and even execs based in New York, are actually sitting pretty in headquarters a continent away.
But why split hairs?
She still scores quotes from respected folks in the industry—who happen to also be appearing in the film—including Fern Mallis, the senior veep of fashion week producer IMG (um, not IGM as is printed in the article) and Vogue's Andre Leon Talley.
And really, the more fantastic frocks, bags, shoes and baubles that grab the spotlight in "Sex" the movie the better. I mean, the sentimental camaraderie among the four women notwithstanding, what we really want to see is the fashion.
Posted in
Style