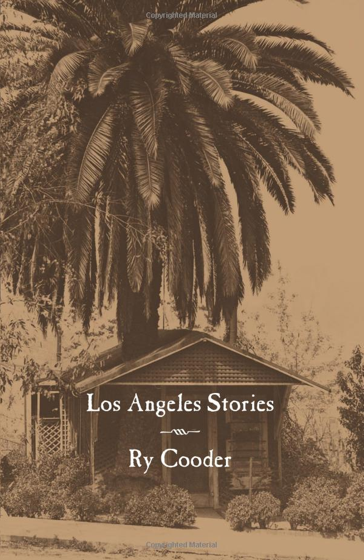 I love a book I hate to finish. Ry Cooder's "Los Angeles Stories" (City Lights), the maiden novel by the guitar whiz and roots music champion, is the latest book to merit that ranking on my reading list.
The loosely connected eight short stories cover forgotten, underlit facets of this city between 1940 and 1958, and the mostly forgotten, beautiful losers who, even in their remote way and, contributed to the texture of Los Angeles. This is not to say they are unsung heroes. Not by a long shot. Some are, in fact, quite the opposite. And that, as Ry so obviously appreciates, is exactly what makes this place so interesting.
The narratives are based partly on fact, and partly on the collective memory of tales Ry pieced together from other sources or his own experiences growing up in Santa Monica before anyone who was white with money cared to do so.
The forgotten or overlooked have always played a high note in Ry's musical life, whether it was by way of benefactor of sorts with the Buena Vista Social Club or through his albums, most recently what's been dubbed his "California Trilogy," the three albums tied more than any others to his native city (2005's "Chavez Ravine," 2007's "My Name Is Buddy," and 2008's "I, Flathead").
Given these 230 pages of short stories were written by a musician, and one whose self-taught scholarship of even the most off the radar artists and styles is remarkable (not to mention a boon to any of us listening in), Ry drops in real life musicians throughout the narratives when least expected. And the most unexpected names they are, artists exalted as legends now but who couldn't get served in some establishments at the time. I won't spoil the surprise.
Posted in

Books, Los Angeles, Music