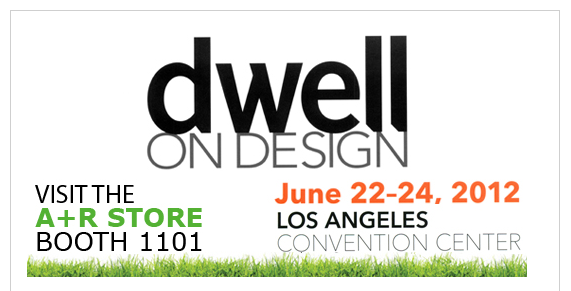 Who doesn't like a free pass?
If you didn't receive the A+R newsletter inviting you to this weekend's Dwell On Design show, then do yourselves a favor and sign up now so you don't miss another one. (By the way, we don't spam, and we scarcely get them out as it is—so it's not as if you'll get tired of hearing from us!)
With it, we extended a chance to win a pair of passes to DoD at the L.A. Convention Center this Friday, Saturday and Sunday (go one day or all three). That's a $40 value.
What is Dwell on Design? North America's premiere modern design marketplace welcoming both the trade and consumers. There is everything from examples of pre-fab housing to all the  coveted mod cons to appoint a living space, inside and out. There are also worthy lectures by industry leaders throughout the weekend. Check out the schedule and plan your visit accordingly.
DoD has taken place in L.A. for the last four years, and each year, organizers invite us back to showcase what's new with a mini A+R Store for visitors to shop. As always, we'll be unveiling several new products we're breaking, some worldwide, some in North America. Have it first. We'll be inside the hall this year, front row, booth 1101.
Enter now for a chance at a pair of tix. Cut off is Noon PST Friday. Winners announced minutes later (got to love technology!).
Oh…and if you haven't already, please Like A+R on Facebook and follow us Twitter.
Posted in

Current Affairs, Design, Interior Design, Los Angeles, Media, Style, Web/Tech